Gujarati Hindus
(Gujaratis)
When did Gujarati Hindus first come to Canada?
Gujarati Hindus started migrating to Canada in the 1950s. By 2018 approximately 122,460 Gujarati Hindus were reported to be in Canada.
Where do Gujarati Hindus predominantly gather in the Greater Toronto Area (GTA)?
A number of Gujarati Hindus have a heavy presence in Brampton and Milton, with significant presence in Vaughan, North Hill, East York, Scarborough, and Ajax.
Population estimate in the GTA: 75,175+
What are Gujarati Hindus' lives like?

Gujarati Hindus are known as being India's greatest merchants, industrialists, and business entrepreneurs.
They are very wealthy and hard-working individuals. Many are merchants and shop owners.
Khandvi is one of their much-loved snacks. Gujarati Hindus love food, and they love to add sugar to their dishes.
In the Gujarati Hindu community, acquiring knowledge is to attain practical goals, particularly business goals.
The important festivals that they celebrate are: Diwali, Utran, and Navratra (most-celebrated festival).
PRAY
for Gujarati Hindus in the GTA
Pray that existing GTA Gujarati Christians will become more involved and more intentional in evangelism efforts to their own people group in GTA.
Pray that existing GTA Gujarati Christians will become champions to address lostness among another near- or even far-culture people group from South Asia.
Pray for non-Gujarati-Hindu believers and churches in GTA (especially in Brampton and Milton) to become burdened about the lost state of so many thousands of GTA Gujarati Hindus so that they get into the gospel harvest.
Pray for GTA Christians to become more aware of local shops owned & operated by Gujarati Hindus and start shopping there regularly to become friends with them & find ways to serve them and share the gospel.
What do Gujarati Hindus believe?
Gujarati Hindus attach great importance to bathing.
Gujarati Hindus fasts once a week and every eleventh day in a fortnight.
Gujarati Hindus believe in heaven, hell, and the transmigration of the soul.
Gujarati Hindus worship a cow, which is considered sacred. However, they worship other idols such as animals, trees, fire, etc, and they believe in bhuts (possessing spirits).
Gujarati Hindus' place of worship is called a 'mandir' (temple). A famous Hindu temple in GTA is the BAPS Shri Swaminarayan Mandir Toronto.
Hindus in general have a sacred text called the Vedas; they don't have just one sacred book, but several scriptures like the Vedas.
Tattooing is common among some Gujarati-speaking Hindus.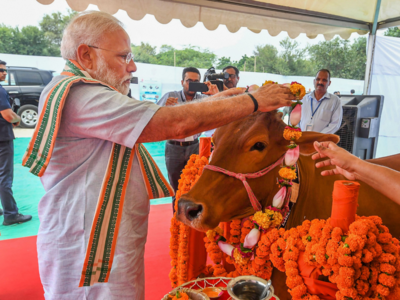 Place of Origin: Gujarati Hindus are from Gujarat, which is a state in India, located on the west-central side of the country.
Language: Gujarati and Indo-Aryan
Religion: The Gujarati people are predominantly Hindu. There are also major populations of Muslims, and minor populations of Jains, Christians, Sikhs, Buddhists.
Population: 62.7 million
The meaning of the Indian Flag: The meaning of the Indian flag colours: Saffron represents stands for courage and sacrifice. White represents peace, unity and truth. Green stands for faith and fertility. The blue symbolizes the sky and the ocean. The blue wheel in the center of the flag with 24 strokes is called a Ashoka Dharma Chakra (Wheel of Law). This is a Buddhist symbol dating back to at least the 4th century BC.
Status in GTA: There are at least three known Gujarati Hindu-background church communities in the Brampton area.