Place of Origin:
Afghanistan is located in Central Asia. It is surrounded by five countries, Iran (West), Pakistan (East), Turkmenistan (North), Uzbekistan (North), Tajikistan (North).
Religion:
Islam (99.7%), other religions include: Christians, Sikhs, Hindus and Bahai.
Population:
38.04 million
(Primary) Languages:
Dari and Pashto
(Secondary) Languages:
, Uzbek, Turkmen, Balochi, Pashayi
Other Information:
Afghans have a strong gravitational pull toward the Greater Toronto Area due to the large already-existing community of Afghans, as well as halal markets, cafes, restaurants, and social life.
Afghans have more of a "tribal" identity in which they are able to relate to their own people group over other language groups.
Afghans have a great sense & tradition of hospitality.
Afghans have a strong sense of national pride of who they are & the fact that they have never been conquered for long.
When did Afghan Muslims first come to Canada?
Afghan Muslims are relative newcomers to Toronto, with the first wave of immigrants arriving in the early 1980s after the then-Soviet Union invaded their country. As a result of ongoing political turbulence, Afghan Muslims continue to settle here.
Where do Afghan Muslims predominantly gather in the Greater Toronto Area (GTA)?
Most Afghan Muslims live in the Thorncliffe Park, Flemingdon Park, East York, Scarborough, and northeast Brampton areas, as well as the Don River Valley district of GTA. There are also Afghan Muslims in Milton, Richmond Hill, Ajax, Whitby, Vaughn, & Guelph.
Population estimate in the GTA: 41,735+
What are Afghan Muslim lives like?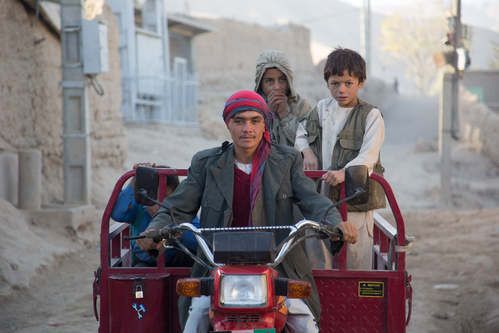 Most GTA Afghan Muslims are survivors of trauma; almost every single Afghan here is a refugee, comes from a family of refugees, or is connected to refugees.
There is a higher per capita incidence of PTSD and other forms of mental issues among the GTA Afghan Muslim populace than the rest of the GTA population.
In the past decade, the Afghan Muslim community has become fairly well established. Ten years ago, there weren't many families who owned houses. It is estimated that 70% of Afghan Muslims now own a house.
There are at least 4 Afghan Muslim cultural or religious association centres in GTA.
Most Afghan women/girls were not allowed to seek formal education in Afghanistan before coming to Canada.
Afghan Muslims have been displaced due to decades of war, starting with the Russian invasion of 1979-1989, the civil war that resulted from the destruction and chaos that was created in post-1989 Afghanistan (this included the reign of the Taliban), and the aftermath of 9/11 on the country. Consequently, Afghans have become one of the world's largest refugee populations with a diaspora presence all over the world.
There are significant divisions between GTA Afghans based on ethnicity (Pashtun, Tajik, Hazara, Uzbek), languages (Pashto and Dari), regions (urban, rural) and expressions of Islam (Sunni, Shiite).
What do Afghan Muslims believe?
Islam (Sunni---as high as 80% of the population); the remaining are Shias; apart from Muslims, there are also small minorities of Afghan Sikhs and Hindus.
In general, Afghans are people of Muslim faith. In GTA they do not practise a radical fundamentalist interpretation of Islam like that of the Taliban. Rather than just wholesale rejecting the radical form of Islam that has often been used as a tool of repression in their homeland, Afghans here often rely on Islam for support when confronted with stress.
PRAY
for Afghan Muslims in the GTA
There are few known Afghan Muslim followers of Jesus in GTA.
Pray the Lord will raise up laborers among Great Toronto Area (GTA) Afghans to evangelize, disciple believers, & start churches.
Pray that current workers among GTA Afghans be connected to existing Afghan believers.
Pray for Christians to show Afghans the power of Christ's love, & empower GTA Christians to be instruments of peace.
Pray for GTA evangelical involvement among Afghans: it will likely require developing a discreet yet strategically intentional presence among Afghans via social media, as they are very active and connected online, especially back to Afghanistan via the Internet.

There are few known open Afghan followers of Jesus in GTA from a Muslim, Sikh, or Hindu background, and there are only a few known churches (possibly four) in GTA with Afghans as the primary members/attendees. There are a few believers, churches, & at least three mission organizations focusing attention & outreach efforts on Afghans in GTA. Networking and collaborating with such existing believers, churches, & organizations (and emerging ones) will be wise.
Pray for more GTA believers to live among GTA's Afghans in their own buildings/communities (the Move-In approach).
Pray for more GTA believers to work among Afghans (perhaps in labor jobs).
Avoid aggressive, confrontational, one-time evangelism approaches that have no intention of following up with individual Afghans & continuing friendship.
Don't spend so much "tea drinking" time (although very important to aid in establishing friendships) without ever getting to a gospel worldview conversation.
Urban Reach Assisting Churches is a peoples group website that seeks to provide an accessible online portal for receiving and sharing tools, information, expertise, and resources related to engaging and embracing the diverse peoples of Canada.
Prayercast is a website dedicated to activating prayer around the world.
For prayer resources on Afghan peoples, click the Prayercast logo.